Winkel Tripel Projections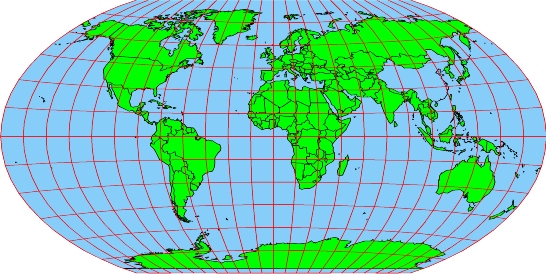 Figure 1. A Winkel Tripel projection.
The Winkel Tripel projection was developed in 1921 by Oswald Winkel (1873 - 1953). Contrary to popular belief, Tripel is not somebody's name; it is a German term meaning a combination of three elements. Winkel choose the name Tripel because he had developed a compromise projection; it does not eliminate area, direction or distance distortions; rather, it tries to minimize the sum of all three.
Prior to 1998, the Winkel Tripel projection was not considered particularly exceptional. However, in 1998 the National Geographic Society announced that it was adopting the Winkel Tripel as its standard projection for maps of the entire world. As a result of this announcement, interest in the Winkel Tripel projection has skyrocketed over the last few years.
The Winkel Tripel is unusual in that it is created by averaging the X and Y coordinates from two other seldom-used projections: the Aitoff and the Equirectangular. The result is a projection that looks a lot like the Robinson (but remember that Winkel developed his projection about 42 years before Robinson developed his, so you can't accuse Winkel of plagiarism). However, the Winkel Tripel has a few unique qualities of its own. For example, lines of latitude in a Robinson projection are parallel straight lines, while in a Winkel Tripel they are slightly curved, nonparallel lines.

Distortions

Uses: The Winkel Tripel is a compromise projection that is neither conformal nor equivalent. While just about every point in a Winkel Tripel map suffers from a small amount of each possible type of distortion, just about no point in such a map suffers from major distortions of any kind. This makes the projection very well suited for general purpose mapping. It is suited only for mapping the entire world; it is rarely if ever used to map anything smaller than the whole planet.

Figure 2. A Winkel Tripel projection of Mars

Prior to 1998, the Winkel Tripel was a fairly obscure projection. However, when the National Geographic Society announced that it was adopting the Winkel Tripel as its standard world projection, it almost certainly ensured that the projection will become much more popular in the near future. This increase in popularity has been quite evident to those of us who work in the cartography field, and its not hard to find examples of the Winkel Tripel in use: Figure 2 shows an example of the Winkel Tripel projection being used to map the surface of Mars. Only the future will tell if the popularity of the Winkel Tripel will continue to grow.